November is closing in and for those of us that like to write, November means it's time for National Novel Writing Month, or NaNoWriMo. Announce your project on their website, prep your outline and prepare to write at least 1,667 words every day in November to reach the monthly target of 50,000 words.
Yes, 50,000 words can seem daunting, and depending on where you live, local holidays may play a role in your ability to write. Thanksgiving in the USA, for example, is a big family holiday that can easily distract from your writing. If you don't plan accordingly, it's easy to let your guard down and miss out on writing that you need to get to your target. But it can be done. I've done it several times myself.
A few years ago I created the Online Writing Log for the specific purpose of avoiding those pitfalls, and to be able to track your projects and progress throughout the year. However, I know that some prefer to track their writing in a spreadsheet so I created The Writing Log 3 for that purpose earlier this year.
The Writing Log 3 has some of the same features as the Online Writing Log. You can define your projects, set monthly goals, track your writing sessions and always know exactly how much you have left to write to reach your target. Best of all, you can do this for any month of the year.
In this post, I'd like to briefly explain how The Writing Log 3 can be used for NaNoWriMo.
Define Your Project
Just like you would setup and define your project on the NaNoWriMo website, you add your project to The Writing Log 3 Project page. You set the type of project it is, a word count target and start and stop dates.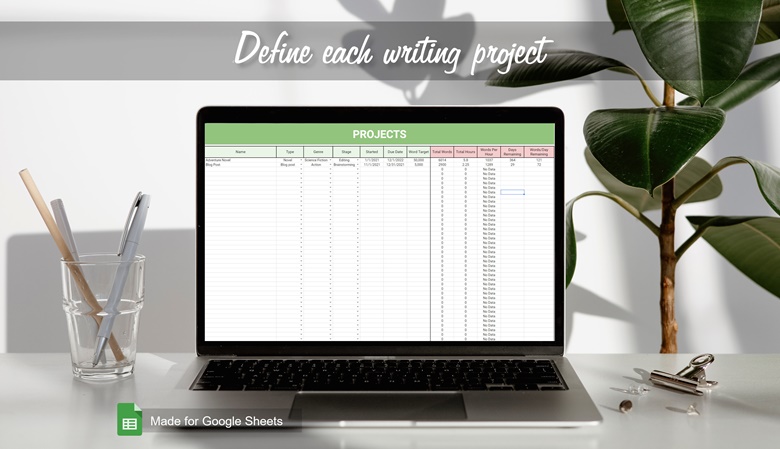 Set Your Monthly Target
Then it's time to set your monthly target on the Monthly Goals sheet.. Since we're dealing with NaNoWriMo and November in this case, you enter the first day of the month in the Month column, then 50,000 words as the goal. You will now see the 1,667 daily word target you need to reach.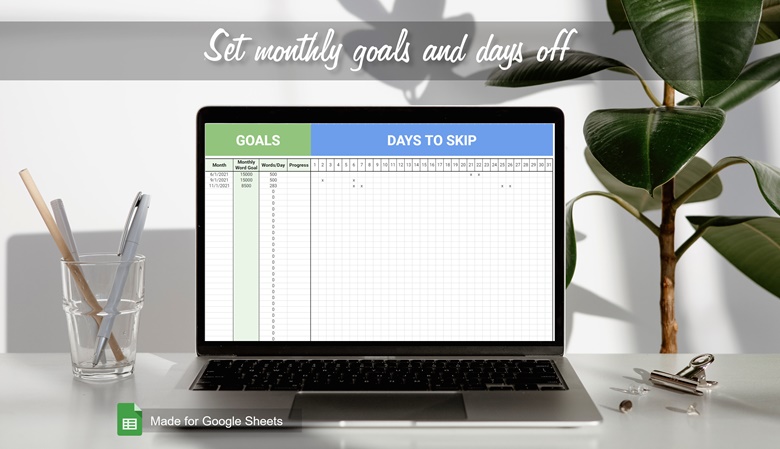 But what if you can't write on Thanksgiving or the day after? What if you have family around and it would be rude to sneak away for a couple of hours to write?
That's what the Days to Skip section is for. Put an X in the day you think you'll need to skip and the daily goal amount will automatically adjust and spread out the word count target for those particular days across the rest of the month. It increases the daily goal across the board a bit to make it more manageable to make up for those days you may not be able to write.
Track Your Writing
Once your project and goal has been setup, it's time to start tracking your writing. The Writing Log 3 allows you to track multiple writing sessions per day. Especially for those that are busy, you can write a little bit here and there as there is time. You may not even need to take Thanksgiving off, but squeeze in 15 minutes here, 15 minutes there. It all adds up. I usually write in 30 minute increments myself outside of NaNoWriMo. One session in the morning, one at night. That adds up to an hour. If you can squeeze in writing during your lunch hour as well, then reaching your daily target shouldn't be a problem. You can record all of these sessions with The Writing Log 3 and see exactly how much you have left to cover for the day.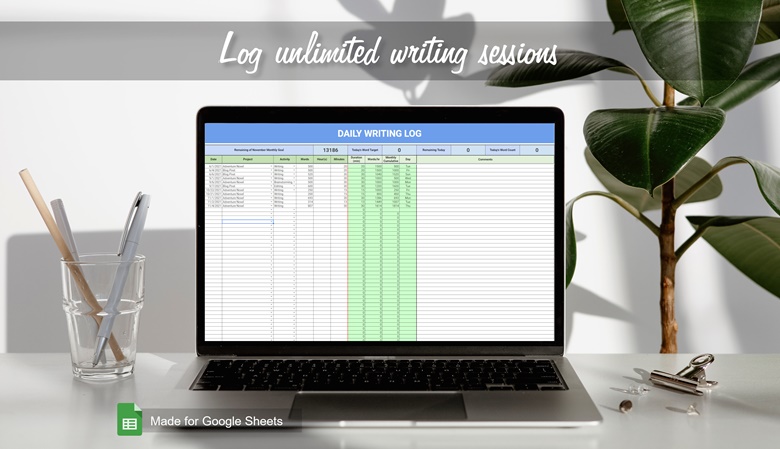 Review Your Progress
Finally, the Dashboard gives you a great overview of how you're doing. You can see how much you have left to do in the current month, the daily progress can be reviewed and you'll see what days you're writing the most on (this is another factor you can look at to plan ahead for future writing sessions).
You can, of course, also review annual progress by month. The Writing Log 3 is, after all, not just for the month of November. It can be used throughout the year.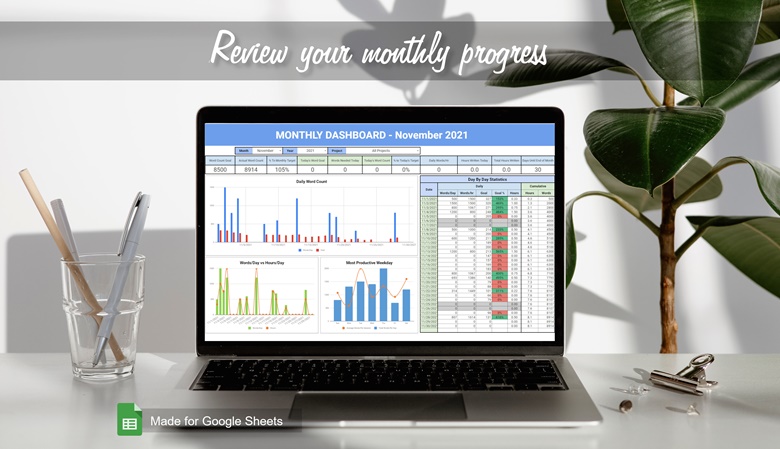 If you'd like to find out more about how it works in practice, check out the YouTube video I made specifically for The Writing Log 3 below.
The Writing Log 3 is available for $9.99 on our Ko-Fi shop. This includes both a Google Sheets and a Microsoft Excel version.
Between now and the end of November 2022, you can pick up the Writing Log 3 for 20% off with discount code NANO2022 during checkout.
It is also available on our Etsy store, here. The discount code is the same.
Finally, remember to register your NaNoWriMo project on the official website, https://www.nanowrimo.org. Even if you end up using the Writing Log 3, you still need to log your entries on the official site to take advantage of the offers they have and features they offer.
I wish you the best of luck in November!